2018 was always shaping up to be the make or break year for us. It was a year where we had to decide to pull back and keep the business as a hobby/side-project or push forward and develop it into what we had always envisioned. The decision was made that we needed to increase production in order to be in a position where we had enough stock to open a cellar door outlet and have enough quality wines to hold our own.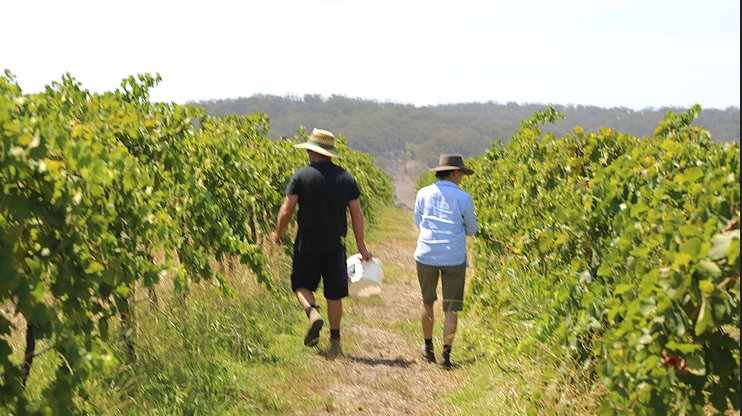 This is something we have had planned for a while but at this stage it is looking like becoming a reality at the end of 2018/early 2019. Fortunately again we were blessed with exceptional growing conditions in the Hunter and Alpine Valleys. We also ventured elsewhere and below is a snapshot by region of what was produced in each of the regions:
Hunter Valley
We were impressed with the 2014 wines made by Ashley Horner which were sourced from Onikul Vineyard on Marrowbone Road in Pokolbin so we decided to again source Semillon and Shiraz from here. The Semillon was picked quite early on 9 January and has now finished ferment and is looking similar, if not better, than the 2014 Semillon. It displays similar aromatics with green apple and lime characters and is currently being fined ready for bottle at the end of April. With the vineyard recently being sold to the Johannes family, the name has also changed to JohannesBurg Vineyard from Onikul Vineyard and this will be what this Single Vineyard Wine will be named going forward. As with many vineyards during the hot and dry Hunter vintage, yields were down and this meant we needed to source additional fruit to make up our planned quota for Semillon. We sourced a parcel of fruit from Berrand Estate which was picked on later on 30 January. We had initially planned to blend the two vineyards together but once they had both finished fermentation, they each displayed quite different characteristics and it was decided to separate the two and have a Single Vineyard Semillon from Johannesburg Vineyards and have a blend made predominantly from the Berand Estate parcel with quite a small amount of JohannesBurg. Shiraz was again sourced from JohannesBurg Vineyard and was of very high quality. The Shiraz was picked on the afternoon/early evening on 7 February and crushed and pressed on 8 February before being cold soaked for 3 days then starting fermentation. The wine was then racked off into barrel on 22 February and is currently undergoing malo. We sourced two new French Oak puncheons with the remaining wine being stored in 6 older French Oak barrels.
Alpine Valleys
We again returned to the Alpine Valleys and we are quite lucky to have Jo Marsh from Billy Button Wines making our wines again this year and we have secured fruit from the same growers at Con Mara Vineyard and Greenachres Vineyard. From Greenachres Vineyard, we sourced fruit for our Blanc de Blancs sparkling and Chardonnay. The sparkling base retained good acidity and the chardonnay fruit was also in great condition. From Con Mara Vineyard we sourced our usual Shiraz (1654 Clone) and also decided to make a Rosé from the Shiraz grapes. Bith have only recently been picked. Indications so far is that the alcohol content will be higher this year but this was to allow flavour to develop with longer hang time on vine.
Margaret River
Due to a lot of our customers being from WA and a lot of our time spent there, we decided to make a wine that would appeal to that market. We were lucky to have contacts in Margaret River and secured some Chardonnay from Edinger Vineyard in Walpole. This Chardonnay is the Gin Gin Clone and is being made by the team at Flametree Wines. With approximately 30% new French oak and the remaining being one-year old barrels, the wild ferment is sure to create a nice citrus style with a bit of funk!
Orange
We sourced another small portion of Sauvignon Blanc from Orange this year and this is till undergoing ferment. We trialled this last year with 1T and it has proven popular so we decided to go with the same amount again! This Sauvignon Blanc is made by Ashley Horner and is Certified Organic (even though the label doesn't say so!).
Cowra
We sourced some Certified Organic Verdelho from Cowra as Ash was making some and there was additional fruit available. This will no doubt be a hit and is also likely to be bottled in April with a release date of around July. We have been quite busy over the last couple of months making the wines and from the end of April we are hoping to hit the road for a few months and start getting them out. We will keep you posted on where we will be and hopefully try and meet up with as many people as possible to give them a taste of what we have been working at!